What Is Jongas Fine Art
The Vision For Producing Amazing Photography Prints
Thank You for your interest in Jongas Fine-Art. I hope, on this website, you will find artwork that will not only help beautify your space and also will add a touch of class and great energy. My main intention in producing photography prints at Jongas Fine Art is to achieve artworks of the highest quality possible. Therefore, besides spending countless days photographing the world's most beautiful landscapes, a lot of my time is devoted to the post-processing of the images I've taken, in order to achieve printed art that looks as perfect as possible. My vision of producing photography prints was always the same. If I was to offer art that will be used to decorate someone's home or office, I want it to be as flawless and as luxury-looking as possible.
After producing the image to my liking, it is reviewed a few more times later. "With a fresh set of eyes", so none of the details are left out and the final photography print looks nearly perfect. When an order is placed to buy a luxury fine art photography print, the finalized image gets printed on a test paper to check and eliminate any remaining flaws. After that, the image is printed in large format to produce the final modern wall art, which is shipped to you soon after.
The Printing Process
To achieve the highest, museum-grade photography prints, we rely on the latest and most advanced technology in today's market. To be exact, to produce luxury fine art prints that we offer on this website, we use Lumachrome acrylic mounted system. To learn more about Lumachrome Acrylic mounted process, please refer to the diagram below: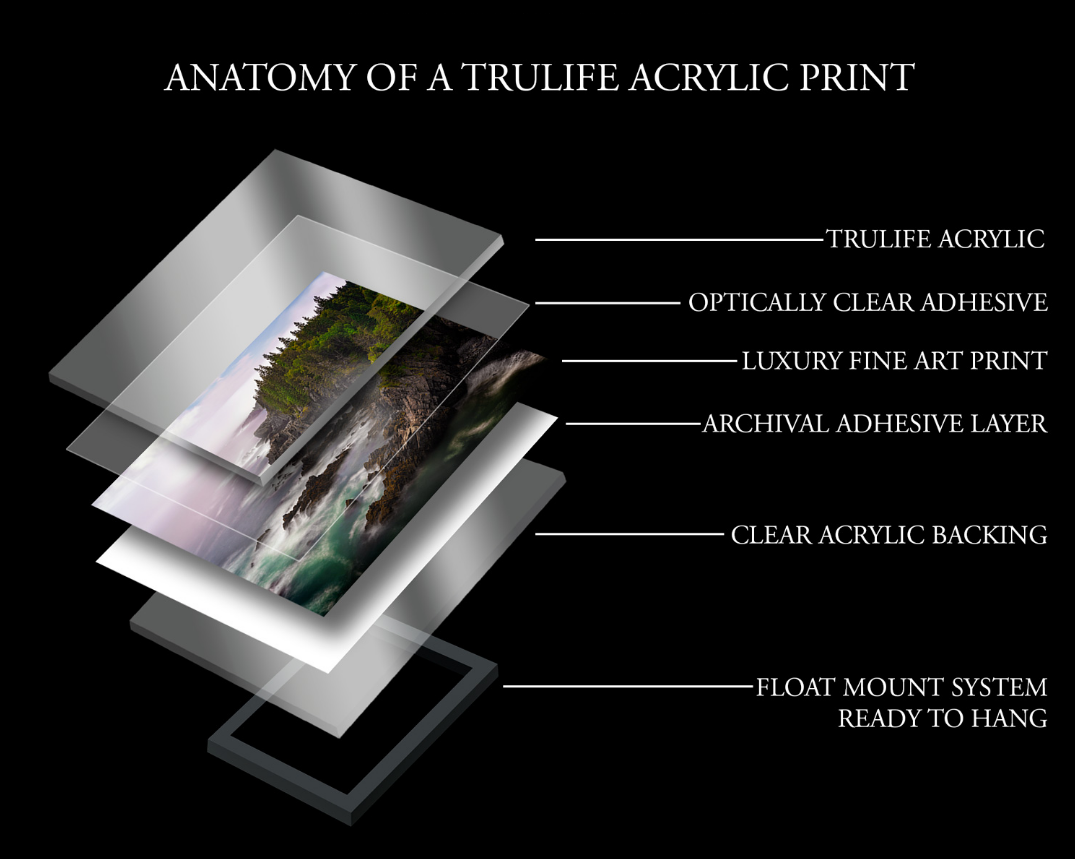 The acrylic part of the print used to create this luxury fine art photography is made with Trulife technology, which has many qualities that include: Long-lasting UV protection (up to 50 years or more), anti-glare, anti-scratch features, as well as the ability to bring out the maximum amount of colors and precise details from the image.
The printers we use to complete this process are very experienced and are really good at what they do. But don't just take my word for it. You will see it when your print arrives.
In the end the biggest obstacle I face as an artist who sells photography online. Is that no image displayed on this website will come close to representing what an actual photography print looks like in person. My primary goal is to exceed your expectations and to deliver fine art you will be fully satisfied with!
Limited Edition Prints
My whole body of work is available on this website. Each artwork is offered in Limited Edition of either 75 pieces. Each photography print sold is digitally authenticated, numbered, and signed by me personally. You will receive a COA - Certificate Of Authenticity, which is shipped via mail separately from the artwork ensuring you have a copy that has been produced by the artist.
Ordering Photography Prints
Ordering is very easy:
1) From the Photo Gallery section (Collections), click on a category you like
2) Then click on a single image of your choice
3) Scroll down under the image to choose your preferred size and click add to cart
4) Proceed to checkout