The Prints
The Vision For Producing Amazing Photography Prints
Thank You for your interest in Jongas Fine-Art. I hope, on this website, you will find artwork that will not only help beautify your space and also will add a touch of class and great energy. My main intention in producing photography prints at Jongas Fine Art is to achieve artworks of the highest quality possible. Therefore, besides spending countless days photographing the world's most beautiful landscapes, a lot of my time is devoted to the post-processing of the images I've taken, in order to achieve printed art that looks as perfect as possible. My vision of producing photography prints was always the same. If I were to offer art that will be used to decorate someone's home or office, I want it to be as flawless and as luxury-looking as possible.
After producing the image to my liking, it is reviewed a few more times later. "With a fresh set of eyes", so none of the details are left out and the final photography print looks nearly perfect. When an order is placed to buy a luxury fine art photography print, the finalized image gets printed on a test paper to check and eliminate any remaining flaws. After that, the image is printed in large format to produce the final modern wall art, which is shipped to you soon after.
Currently, I offer most of the landscape photography images, city photography prints, fine art photography and photo art from other categories on three different surface types:
1. Lumachrome HD Acrylic Mounted
2. Canvas Prints Pro
3. HD Metal Prints
What Are Lumachrome HD Acrylic Mounted Prints?
To achieve maximum print quality that is unparalleled to anything the world has ever seen, a new type of technology had to be invented and modified by the masters of the photography printing world. "Lumachrome HD" was created using proprietary technology and methods, in order to create specific type of paper. Due to the chemicals and materials used, this paper can not be used by itself to print on. To achieve what "Lumachrome HD" prints achieve, the paper has to be mounted to the piece of acrylic almost immediately after printing. This method helps preserve the highest quality of the print, provides maximum color vibrancy and makes the prints ready to hang in any world class gallery. The paper also supports higher color gamut space, allowing for additional richness in color as compared to other papers on the market!
The acrylic part of the print used to create this luxury fine art photography is made with "Trulife" technology, which has many qualities that include: Long-lasting UV protection (up to 50 years or more), anti-glare, anti-scratch features, as well as the ability to bring out the maximum amount of colors and precise details from the image.The printers we use to complete this process are very experienced and are superb at what they do. But don't just take my word for it. You will see it when your print arrives. In the end, the biggest obstacle I as an artist who sells photography online. Is creating a print that looks exactly how you see it on your phone or computer screen. My primary goal is to exceed your expectations and to deliver you a photography print you will be fully satisfied with!
The diagram below gives you an idea of the actual parts of the "Lumachrome HD" acrylic mounted process: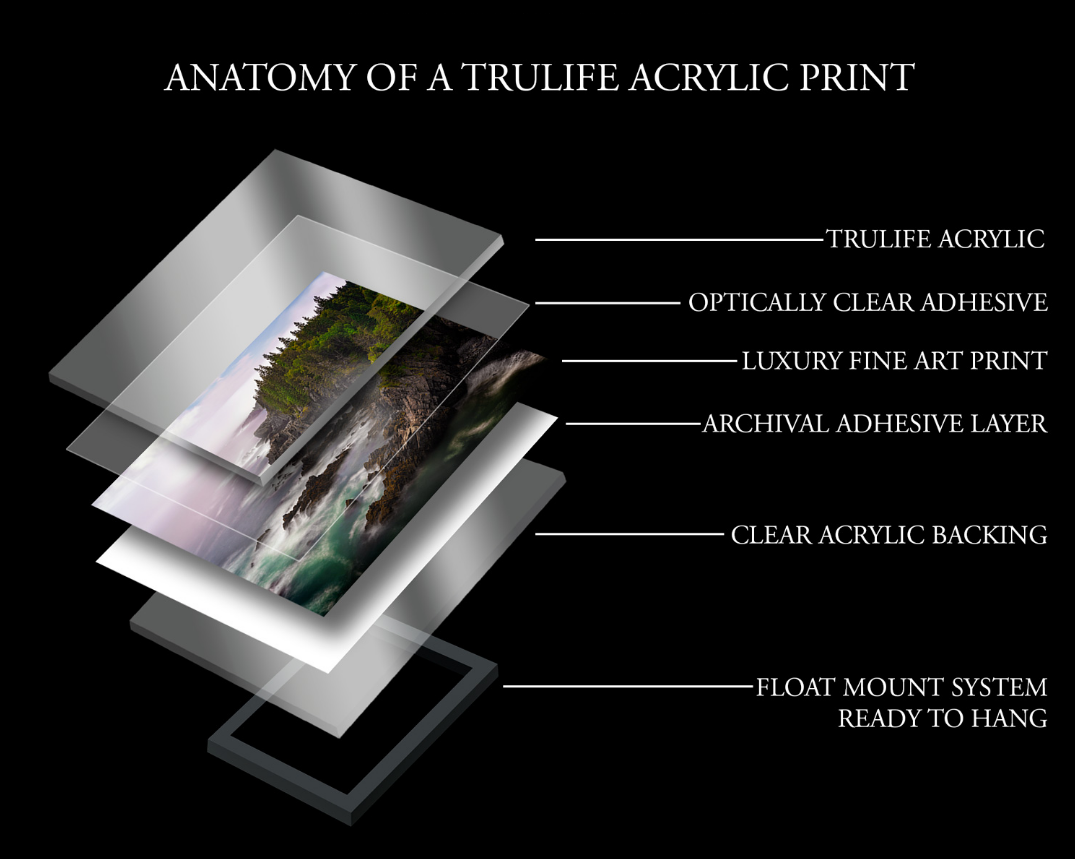 The final result of having a Lumachrome HD acrylic gallery print is unmatched with anything else on the market. When people see this type of gallery print in person, they can't help but notice something different about it. It emanates quality, luxury and gives meaning to the words Fine Art Photography Prints. These prints are superior to all other forms of printing and seeing it in person it is easy to tell why. Compared to lower quality paper prints, metal prints, canvas prints, "Lumachrome HD" stand out as a superior breed all together.
---
Canvas Prints Pro
In recent years, Canvas Prints have become a great choice for photography printing. Newly developed technology allows us now to produce much higher quality Canvas Prints as well. When people walk into the Jongas Fine Art Gallery at 3339 Kimber Dr., Newbury Park, CA 91320. The first thing they say when they look at a canvas print hanging on a wall is - Is that a painting? I always have to correct them by saying these are all photography prints... It is precisely what these new generation Canvas Prints can do. They can make any photo art print make look like an actual painting.
Unlike Lumachrome HD acrylic prints that look more like a shiny gallery art piece that is great for a more modern or contemporary interior design style. Canvas Prints Pro are more suitable for interiors that resemble country, rustic, beachy, or traditional interior designs styles. In designs where canvas art with more flat colors and older wooden frames suit better than the stuff that's really luxury and shiny. Canvas prints have a warmer, softer feel to them and are best fit for a warm, cozy type of living environment.
Canvas Prints Pro arrive ready to hang, and don't need any special hardware, because they aren't very heavy. Even in larger sizes. They come stretched on a wooden frame, are produced and delivered within 2-3 week period.
---
Limited Edition Prints
My whole body of work is available on this website. Each artwork is offered in Limited Edition of either 50, 100, or 200 pieces. Each photography print sold is digitally authenticated, numbered, and signed by me personally. You will receive a COA - Certificate Of Authenticity, which is shipped via mail separately from the artwork, ensuring you have a copy that has been produced by the artist.
Ordering Photography Prints Online
Ordering is very easy:
1) Go to Online Photo Gallery section (Collections), click on a collection of your choice to browse for images
2) Then click on a single image of your choice
3) Scroll down under the image to choose your preferred size and click add to cart
4) Proceed to checkout
---
Fine Art Prints Production And Delivery
Typically, the turnaround time for production and delivery for the Acrylic mounted luxury photography prints takes anywhere from 4 to 6 weeks. The shipping process may take longer for international orders, depends on which country it is being shipped to.
For metal and canvas prints, the process is usually quicker and requires less time to produce. Hence, you can expect the delivery in under 4 weeks. Regardless of the print, after the order is placed, you will be notified when the artwork is going to be shipped with a tracking number provided.