A Glimpse into The Life of Bob Ross: Breaking Down The Man Behind "The Joy of Painting"
Bob Ross's rise to fame is unsurprising. In the early 80s, he quietly debuted his hit show on television across the United States. Contrary to what people believe today, his show provided more than just art lessons! For many users, the show was an experience that compromised entertainment and therapy through art.
Ross taught his painting method to millions of viewers over the course of 400 episodes lasting 26 minutes each. While most of his viewers probably weren't interested in learning how to paint themselves, they were hypnotized by Ross' hypnotic smoothness and signature permed hair.
Bob's style earned his show a devoted following, with millions tuning in to watch every episode! Despite his success, Bob Ross didn't enjoy the public eye outside his show. He lived a private life and rarely made other appearances. Let's dive deeper into Bob Ross art and his career as one of the most recognized artists of this generation.
Early Years of Bob Ross
Bob Ross was born in Daytona, Florida, on October 29, 1942. A lot of Bob's inspiration came from his parents, Jack and Ollie Ross, with whom he had shared a great relationship. Bob inherited his mother's fascination for nature, and that's why most of his paintings were of landscape scenes.
When Bob was young, his father worked as a carpenter, and he helped him out. However, when an accident caused him to lose a finger, he realized the profession wasn't for him, and in 1960 he enlisted in the Air Force.
Bob enlisted in the Air Force as a medical records technician at eighteen years old. Bob's devotion to the Air Force helped him work his rank up to Master Sergeant. While stationed at the Eielson Airforce Base in Alaska, he was introduced to snow and mountains. This would later be a recurring theme seen in his paintings.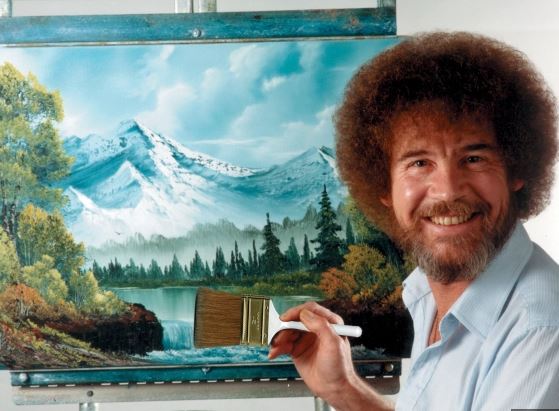 What Drove Bob to Paint?
At some point during his 20 years in the Air Force, Ross took an art class at the U.S.O. club in Anchorage and discovered a new passion.Ross stumbled onto a PBS program hosted by German artist Bill Alexander called The Magic of Oil Painting.
In order to complete a painting in less than half an hour, Alexander employed a technique popularized in the 16th century called Alla, sometimes known as "wet-on-wet," which didn't require him to wait for the paint to dry. Ross learned the skill, painted, and sold Alaskan landscapes on novelty gold-mining pans. This helped him earn a lot of money and would eventually catapult him to stardom.
After some time, Ross's sales revenue caught up to and even surpassed his military wage. As a master sergeant, he left the Air Force in 1981 to become a full-time painter.
Bob Ross's Painting Career at A Glance
Bob kick-started his painting career by joining Alexander's company as a salesperson. He was convinced by Annette Kowalski, who was impressed by his skills, to start his own business. Anette, Bob, and his wife joined hands to create a company that would change their lives forever.
When Bob Ross first began his career as a painting instructor, he relied heavily on the sales of his books because he hadn't yet established an art-supply line. Ross made the decision not to sell his original artwork. However, he occasionally donated pieces to auctions for good causes.
The next big step for Bob Ross was his PBS show, which grew into a $15 million business. Bob Ross-endorsed products sold like hotcakes, and it's all because he made the activity so simple. He used a straightforward color palette, ensuring a beginner wouldn't have a hard time being confused by the paint selection.
Aside from his show, Bob also taught his students privately. Many individuals had the privilege of attending Bob Ross lessons, some of which went for as high as $375 per hour. Despite his success, Bob never let fame get to him. He continued living a private life outside his paintings and rarely spoke about anything else.
What were Bob Ross Paintings Like?
Ross employed a wet-on-wet method of oil painting, in which he built up layers of color on top of a previously painted surface. It wasn't necessary to wait for the paint to dry before continuing. The approach didn't need a ton of fancy tools because it just employed a handful of primary colors.
This simplicity is one of the major reasons behind Bob's success. He made painting accessible during a time when people thought they'd need to invest thousands for a decent painting. Moreover, he'd walk his audience through each step of the painting, helping novices paint like experts. He talked his students through the process of painting a scene from start to finish while casually daubing colors onto the canvas.
Each artwork shown in "The Joy of Painting" was painted by Bob Ross three times. The first one was created in advance for planning purposes. During the 26-minute recording, he painted the second, occasionally making adjustments on the fly. The final one followed later and was designed specifically for textbooks.
How Did Bob Ross Pass Away?
Many people who knew Ross say he always had a suspicion that he would die at an early age. He'd been a chain smoker for much of his adult life, and several health complications left him frail. By the time he was in his 40s, he had already had two heart attacks.
Bob was diagnosed with a type of cancer called Lymphoma. After a brief fight with cancer, Bob Ross passed away on July 4, 1995.
Bob Ross was an American television star who became a cultural icon. His "afro" and easygoing demeanor and the fact that he was a brilliant artist will always be remembered. Ross, who was beloved by audiences of all ages during his heyday, was arguably the sweetest man in the history of television. His legacy lives on thanks to a devoted following that remembers him to this day.