Who Was Dorothea Lange?
Dorothea (Nutzhorn) Lange, a pioneering documentary photographer of the twentieth century, was born in Hoboken, New Jersey, on May 26, 1895. Heinrich Nutzhorn, her father, was a lawyer, while Johanna, her mother, stayed home to raise Dorothea and her brother Martin. Dorothea Lange suffered polio when she was seven, weakening her right leg and foot. Later, she'd feel almost grateful for the consequences of the sickness on her life. Lange's parents split just before she reached adolescence. Lange came to resent her father for the divorce and finally rejected his surname in favor of her mother's maiden name, Lange.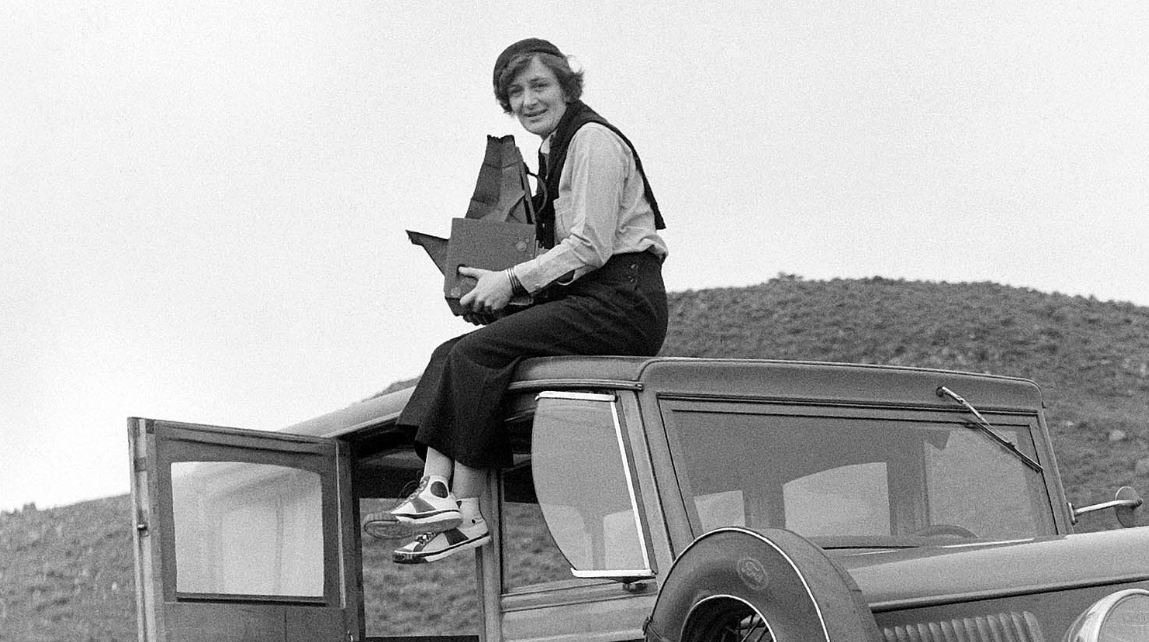 Journey Towards Photography
Dorothea Lange's background was heavily influenced by art and literature, which explains the passion and depth seen in her photos. Her parents were both enthusiastic supporters of her education, and her youth was replete with exposure to artistic works. In 1913, she enrolled in the New York Training School for Teachers after graduating from high school, but she was soon drawn to the art of photography. In 1914, she worked at the "Pictorialist" - style photographer Arnold Genthe's studio, and in 1917, she attended the Clarence H. White School. She studied the art form at Columbia University before working as an apprentice for numerous photographers, including Arnold Genthe, a famous portrait photographer, for several years.
"Witness Of Light" - Limited Edition Fine Art Photography Print For Sale by Jongas
---
Why Is Dorothea Lange's Photography So Powerful?
After finishing the white course, she traveled to San Francisco and founded a picture business she ran from 1919 to 1940. In 1929, she began photographing individuals in their daily lives, and as a result, she made frequent trips to San Francisco's depressed neighborhoods. With the advent of the Great Depression, she focused her lens on what she began to notice in her own San Francisco neighborhoods, which was severe poverty and protest. Lange, who was in an unhappy marriage at the time, met Paul Taylor, a university professor, and labor economist. Their attraction was instant; by 1935, both had left their previous marriages to be with each other.
This would mark a great shift in Dorothea Lange photography. Over the following five years, the pair traveled widely together, chronicling rural hardships for the Farm Security Administration, founded by the United States Department of Agriculture. Lange photographed the individuals they encountered while Taylor wrote reports. This collection of work contained Lange's most famous photograph. Dorothea Lange's "Migrant Mother" is an iconic Dorothea Lange photo from the time that tenderly and lovingly conveyed the suffering and grief that so many Americans were feeling. The famous photograph is currently on display at the Library of Congress. As her husband would later comment, Lange's access to the inner lives of these suffering Americans was the product of her patience and thorough analysis of the individuals she photographed. Her working approach was to stroll up to people and look about, and then when she discovered something she wanted to capture, she would gently grab her camera, look at it, and wait till they were used to her.
Limited Edition of 250 - City photography prints by Jongas - "Golden Hope"
---
"The Migrant Mother" - The Famous Photograph From Great Depression Era
During the trip from Los Angeles To Northern California, Dorothea Lange was passing through little farm town Nipomo,CA in San Luis Obispo County. There, in a camp of migrant farm workers, she spotted a woman with three kids walked up to her and took some pictures without even asking for her name. The woman in the photo was later identified as a Florence Owens Thompson. After being published in a San Francisco newspaper in 1936, "The Migrant Mother" photograph became a famous iconic artwork symbolizing the hardships, hunger and suffering American people had to go through during The Great Depression in the USA. At the time when the photo was taken, the pea crop farm in Nipomo, CA has dried up, causing all crop to be destroyed and leaving migrant workers without jobs. The story surrounding the capture of the famous photo is controversial. Dorothea Lange's account didn't quite match the story that Florence Thompson told the world years later. She even mentioned to have been exploited by Lange's description of the situation. However, that didn't change the importance of this photograph to be considered a historic piece of art that made it to the "Time Magazine - 100 Greatest Images, History's most influential photographs".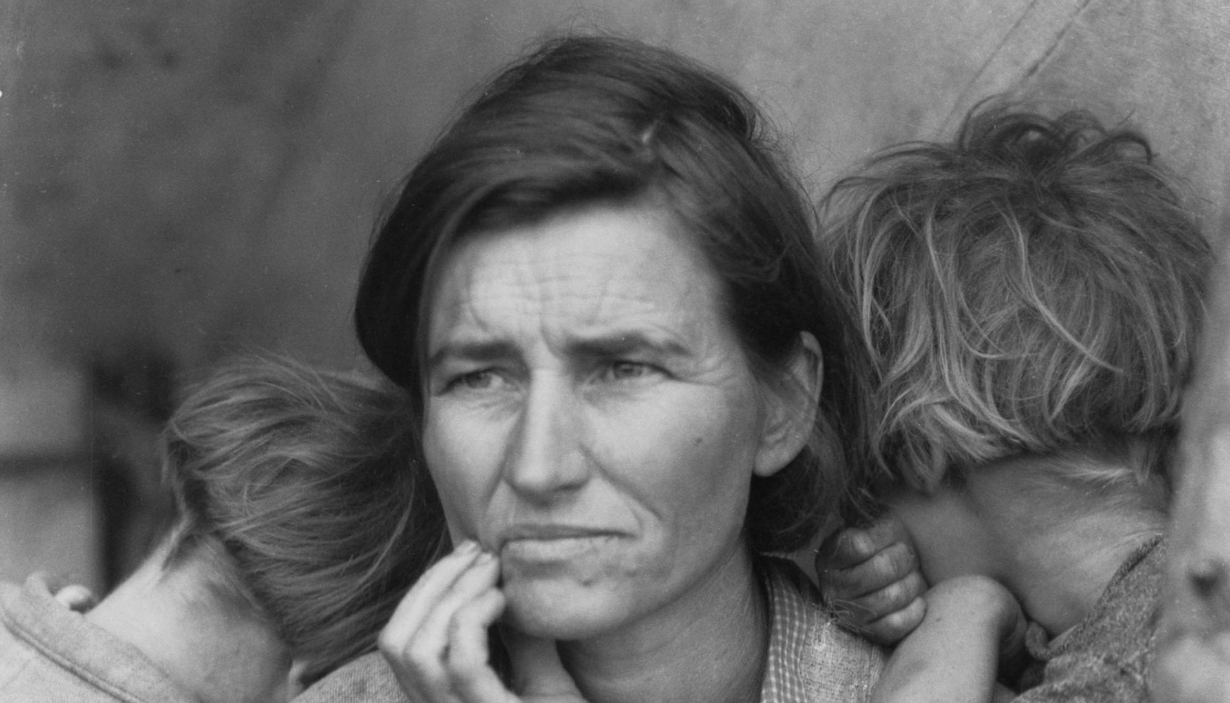 Why Is Dorothea Lange Important For The Art Of Photography
The famous photographer was unconcerned about her images being classified as art; she created them to impact societal change. Dorothea Lange was the first woman to obtain a Guggenheim Fellowship in 1941. From 1942 to 1945, she worked for the United States government, documenting themes such as Japanese-American internment camps and the foundation of the United Nations in San Francisco. She joined the staff of LIFE magazine in 1954 and worked as a freelance photographer throughout Asia, South America, and the Middle East from 1958 to 1965. When she was diagnosed with terminal cancer in 1965, she devoted her time to planning a retrospective show at the Museum of Modern Art, which was exhibited posthumously in 1966. Dorothea Lange photography is one of America's most renowned documentary photographers. Her genuine concern for individuals, as well as her remarkable ability to portray the key parts of the events she photographs, give her work indelible impact and depth. Despite being most recognized for her FSA (Farm Security Administration) photography, she also created other art, such as shots of home and family life featured in American Country Woman (1964). Lange remained busy even as her health deteriorated throughout the last two decades of her life. Dorothea Lange passed away because of health issues in October 1965. She remains one of the most influential and famous American photographers to this day.
"West Coast Getaway " Limited Edition (250) Art Prints by Jongas