Ansel Adams - A Landscape Photographer Or Environmentalist
Having been born not that long ago, I was pleasantly surprised how many people from previous generations know and speak highly of Ansel Adams. Even though I am a photographer myself. These days his works don't come on my radar very often. With the exception of when I visit the Yosemite Valley National Park where they have a gallery featuring Ansel's work in it. Other than that, information about his contribution to mankind is waning. If you want it, you have to go find it. That's exactly what I did before I wrote this article and I wasn't disappointed...
I have heard of Ansel Adams many times and had a general idea that he was a landscape photographer. I knew he started photographing nature almost 100 years ago and all his photos were black and white by choice. I have seen a couple of his famous photos of the Snake River in the state of Wyoming. His famous shots of the Half Dome or a few other photographs from Yosemite Valley. That was it. But in order to write this, I knew there had to be more to the story than just a few black and white photographs. And there was.
I borrowed an auto-biography about Ansel Adams from a friend of mine, I watched a documentary about him as well as looked at some of his photography books (This is the American Earth by Adams and Nancy Hall. As well as "The Tetons and the Yellowstone") to get as much information about him as possible. So I can describe him and his immense influence over the world of arts and the natural world, in my own words.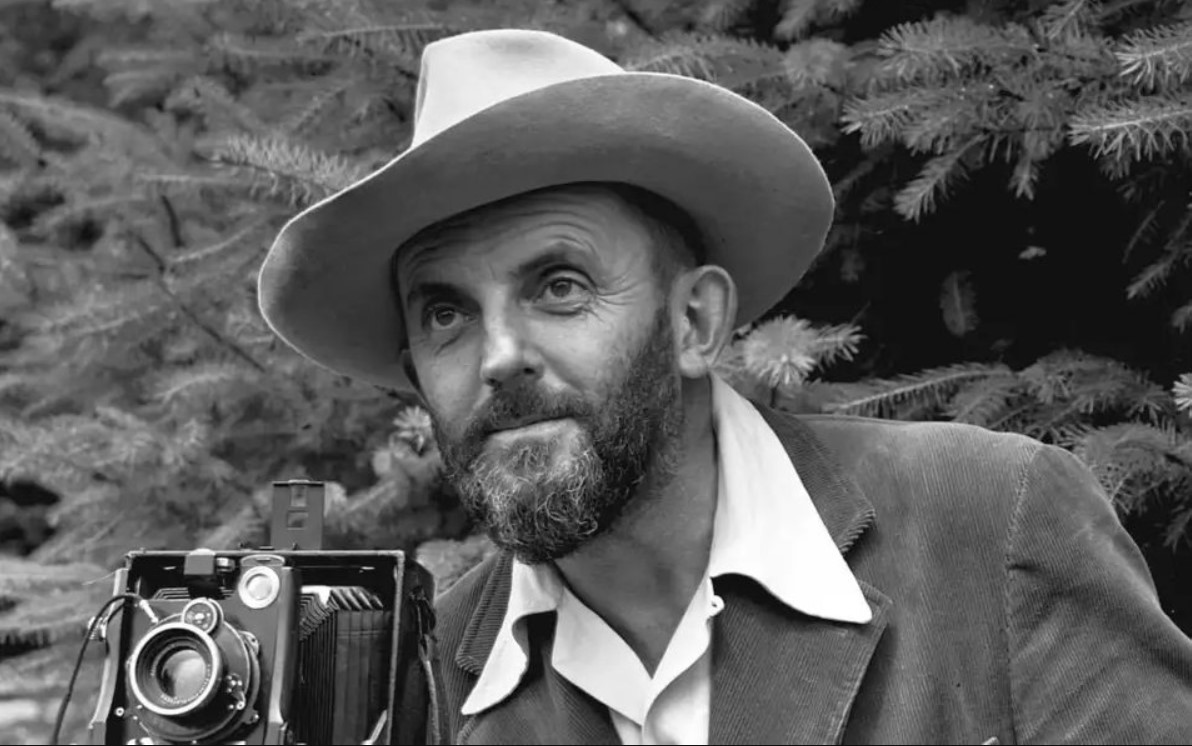 My final impression was that most people see him as a famous landscape photographer who captured nature's beauty on the West Coast. And they don't quite realize this was just one part of his persona which was probably as grand as the other part of his, that loved nature so much, that he dedicated most of his life fighting to preserve and protect it.
I was personally very surprised to learn about his rather active involvement in the protection (and creation) of National Parks. To the point where everything, you see today is in Yosemite National Park. From facilities to transportation was in one or the other way influenced or opposed by him. Some successfully and others not. All driven by his love for the natural world and pure desire to preserve it as organic as it is for future generations.
After what I've learned about the man, I can surely say, he wasn't only a black and white landscape photographer who made fine art photography popular in the world of arts. But he was also a talented musician, an environmentalist, and a conservationist. His affection for the wild world was so strong, that he always had to do something about it. Because of that, next time I'm visiting Yosemite National Park, I will definitely appreciate it much better.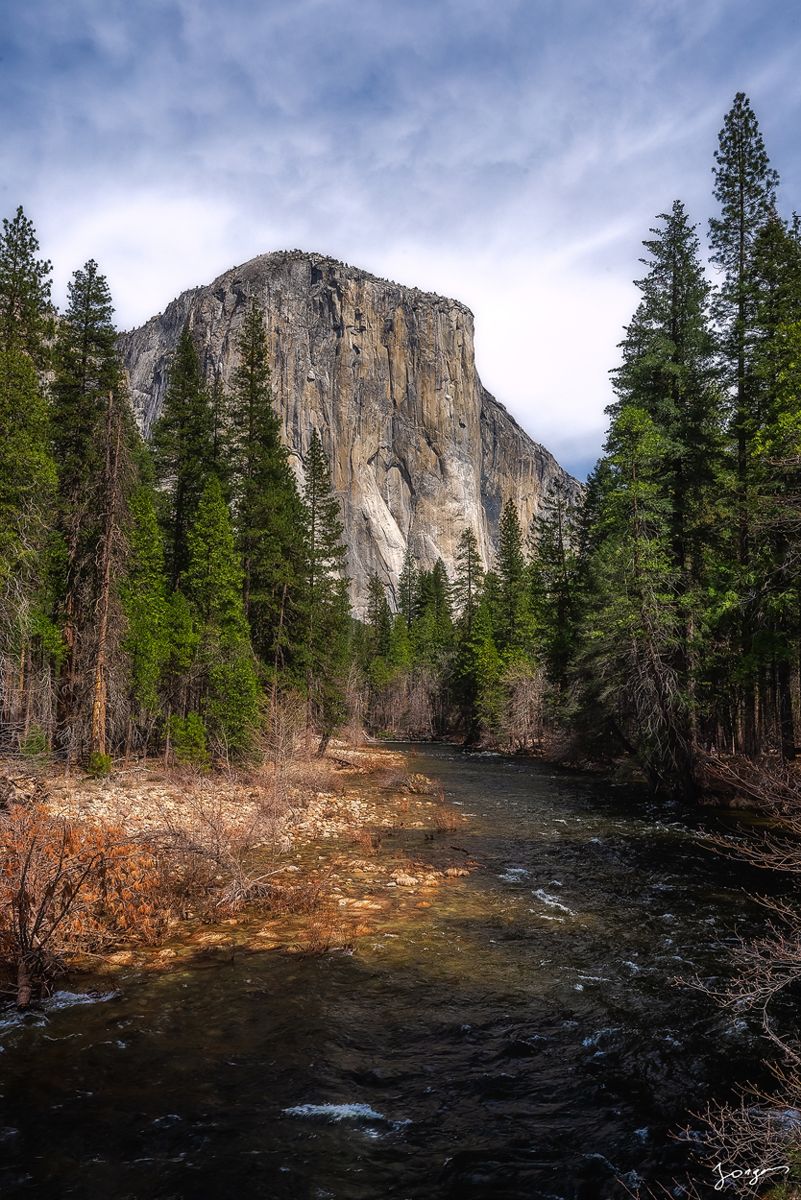 "Grounded" - Yosemite Photography By Jongas Fine Art
Ansel Adams - The Landscape Photographer
There is something about us - the landscape photographers, that makes us who we are. In a way we are all unique and different, we use different equipment and have our own processing techniques. We photograph in different styles and have our own favorite subjects. But there is one thing we all have in common. And that is the enjoyment of spending lots of time in nature and very often doing it all alone... This is why writing about Ansel Adams is pretty easy. Because I totally get his motivation and I can relate to hiking for 4 hours in the mountains just so I can photograph a lake, a tree, or a snowy cap of the mountain.
The truth is, you can not be a landscape photographer if you don't enjoy being outdoors, driving long distances, hiking, getting rained on, or having full boots of sand because you were running to the other end of the dunes to catch a glimpse of the sunset. That's how I know Ansel Adams loved nature. I do it and I live it myself every single day, trying to get out there at every single opportunity, just like he was! For us, connecting with and loving nature is the foundation. Landscape photography comes later.
The Wild - A Natural Introverts Habitat
When he was young, Ansel Adams was a quiet but energetic kid. He was all to himself and didn't do well at school when socializing with others or paying attention in class. His parents homeschooled him for that reason and today he would probably be labeled having ADHD. Because of the tough economic times, his parents fought a lot. As a result, he was spending a lot of time playing alone outside in the nearby dunes near San Francisco. Or spending countless hours practicing playing piano, which he picked up very quickly and was naturally good at. When he grew up to be a teenager, his family went to visit Yosemite Valley. After he saw it for the first time, he was mesmerized, instantly fell in love with it and he didn't even know but at that moment his life was changed forever.
Soon after, his father bought him his first camera Kodak No 1. Yosemite became his playground, a place where he could get away from all his family troubles, and escape city routine, and a place where he could himself as a free man. He spent lots of time hiking Yosemite trails and photographing its beauty in order to show it to other people.
As I started doing landscape photography myself, I realized it was a way for introverts and thinker brains to express themselves artistically. I often joke that photography is how geeks express themselves when they start feeling "artsy". Being outdoors, where boundaries cease to exist, gives us a feeling of personal freedom that can not be found anywhere else. I know Ansel Adams felt exactly the same. Being in a wild nature makes us, introverts more relaxed, fulfilled, and better connected to the world.
Ansel Adams - The Journey From An Enthusiast to A Famous Photographer
At first, Ansel Adams wasn't quite happy with the way his photographs came out. He didn't feel his landscape photography prints could represent the beauty of the natural world the way he saw it in real life. So he immersed himself to learn everything he could about photography and soon enough he started producing art that was appreciated by many including famous photographers and most prominent art dealers in New York like Alfred Stieglitz.
One of his first notable publications came after he met an art patron by the name Albert Bender. Inspired by his work, he convinced Ansel to release his most impressive photographs into a publication that was called "Parmelian Prints of the High Sierras". It was a collection of 18 landscape photography prints mostly from Yosemite Valley. It was later considered a landmark accomplishment for photography of the 20th century.
As he became better and more known he started receiving work as a portrait photographer and was hired to shoot specific landscape photography assignments for business organizations, National Parks, and even the government. He was a member of the revolutionary photography group f/64 where he featured his work next to other famous photographers like Imogen Cunningham, Edward Weston, Willard Van Dyke, Consuela Kanaga, and others. The goal of the group was to change the style of photography from a soft "pictorial" style to one where photographs came out sharp, more realistic, and very detailed.
The World Of Fine Arts
The way Ansel Adams became famous in the world of Fine Arts was through Alfred Stieglitz. Alfred was a prominent art dealer and art gallery owner in New York. He introduced Adams to many famous artists of that time like Georgia O'Keefe, Arthur Dove, John Marin and also offered Ansel Adams an opportunity to use his whole New York gallery to have an exclusive show of his landscape photographs. It was really a big deal for Ansel Adams and gave him confidence that his prints were reaching the levels of fine art.