Farmhouse-style home interiors have been a popular design for many years. A more well-known farmhouse interior design style is characterized by the use of natural wood, warm colors, and farm-reminiscent accessories, but it goes beyond that. Having a farmhouse-styled home can be very individualistic if you make it be. If you're looking to remodel your home into this farmhouse interior design style, there are some things that you should know before starting on the project.
Farmhouse interior design is defined by practicality and comfort, relying on readily available materials and colors. Wood elements and white tones are indicative of farmhouse style. Timber was the easiest to come by, which is why there's such an emphasis on wood elements. Another core aspect is that nothing must match perfectly. Where modern design is meticulous in matching the elements of a room in a minimalistic way, the farmhouse is distinctly different. Knickknacks, antiques, or pairing a vintage chair with a new sofa enhances the farmhouse interior style. The beauty is in the functionality, punctuated by tinges of personality and history.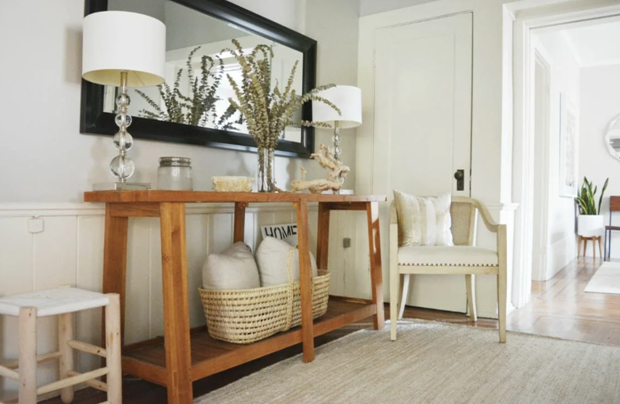 The farmhouse interior design style is one that's been around for centuries. It has a comfortable, rustic interior design feel to it, with an emphasis on elements and colors found in the countryside. Wood was easy to come by back when farmhouses were first being built, which explains why there are so many wood details in a modern farmhouse look.
Simplicity leads the charge when it comes to the elements of farmhouse style. Whites, blacks, grays, or beiges are all typical colors you might see in a farmhouse-styled home. Accent colors are ones typically found outside, such as yellow, blue, red, or green.
Below are some quick tips for someone looking to create a farmhouse-style home:
- Design is clean but practical. It should be easy to move around and find what you need.
- Rooms are a mix of wood focal points mixed with iron or steel fixtures and finishes. Think shiplap, exposed wood beams, and wood floors.
- Other common elements include suede, leather, and cotton or linen fabrics.
- Natural light opens up the room. Accent with window treatments such as coverings, curtains, and valances.
- Add some farmhouse flair by incorporating vintage items like farm tables or chairs into the interior design scheme.
- Hang abstract photography art wall decor in warm, washed-out or soft pastel colors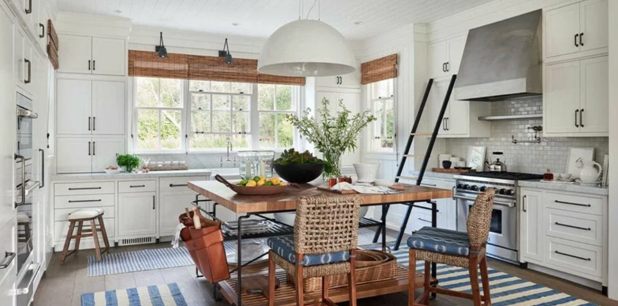 Because it's so common, farmhouse decor is very easy to find in your local stores, small businesses, and online. Gathering a variety of wall art or other fun elements in this style can be inexpensive and easy to achieve. It's truly a trend that won't be going out of style any time soon.
Now that you know some top modern farmhouse decorating tips and ideas, we hope you're ready to start on your own journey, and we're here to help!