Photography As Fine Art
When photography was invented, people did not at first perceive it as an art form. It was more like a way of documenting reality. Similar to what many people do nowadays when they post pictures of their daily lives, situations, and themselves vacationing in Hawaii on Instagram. They just take snaps of what is going on around them and post them for others to see. This is how photography was thought of in the beginning.
But because of people like Ansel Adams, Edward Weston, or Imogen Cunningham, who were the early pioneers in the field of artistic photography, it started to be slowly adopted by many art collectors, patrons, and art enthusiasts. The biggest challenge for these famous photographers was to create photographs that showed something more than just a still shot of what they saw in front of them. The images had to be better composed and had proper lighting to evoke a feeling of drama or catch a special moment in time. For example, a moon rising over the Half Dome in Yosemite. In other words, it needed to show elements of creativity within the photograph that would make the viewer lose herself within the image.
As the art of fine art photography has gained more recognition, some famous photographers in recent years, have produced work that sold for quite impressive amounts of money. The prices don't even come close to what some of the more iconic paintings have sold for. But still, it's pretty much unaffordable for your average art enthusiast!
Here is a list of some of the more expensive photographs ever sold up to the year 2022.
---
Portrait of a Tearful Woman

Produced in 1936 by famous photographer - Man Ray. It was sold at Christie's auction house in May of 2017. The sale price was recorded as a little over $2.1 million US dollars. Previously this artwork was sold to Sotheby's in 1982. Man Ray was known as an experimentalist in the world of arts, always mixing the types of media to push his artistic endeavors further. However, this photograph of a woman was especially special because Ray's ability to apply paint and colors to the otherwise black and white photograph, in order to transform it into a semi-painting. He always felt that photography was creative enough medium for him to express himself, but always lacked color.
---
"The Phantom" By Peter Lik - World's Most Expensive Photograph
In 2014, famous photographer Peter Lik surprised the world with the announcement of the sale of one of his famous photos. It made it into national news with "Time magazine" publishing an article about it, because this unique photograph was sold for a record $6.5 Million dollars. The famous photograph was taken inside the Lower Antelope Canyon in Arizona. As the sun created a beam of light visible inside the canyon, the falling dust formed a silhouette of a ghost which Peter Lik was able to capture, thus the name "Phantom".
The sale of this photo shattered all previous records, including the sale of the "Rhein II"- a previously most expensive photograph sold by Andreas Gurski. The sale of "The Phantom" quickly became a subject of worldwide controversy. Because the sale was never officially verified. As opposed to Gurski's photo that was officially sold at the Christies auction house. Phantom was bought in private by an anonymous art collector and the sale was confirmed by Mr. Lik's attorneys only. That was it... To this day, critics are speculating the sale never happened and Peter Lik did it to create a perfect marketing campaign. In order to claim the title of a famous photographer who sold the most expensive photograph ever! Whether you choose to believe it or not, Peter Lik now officially has forfeited the title of the most expensive photograph sold. His record was beaten in May of 2022 by the sale at Christie's auction house. Read on.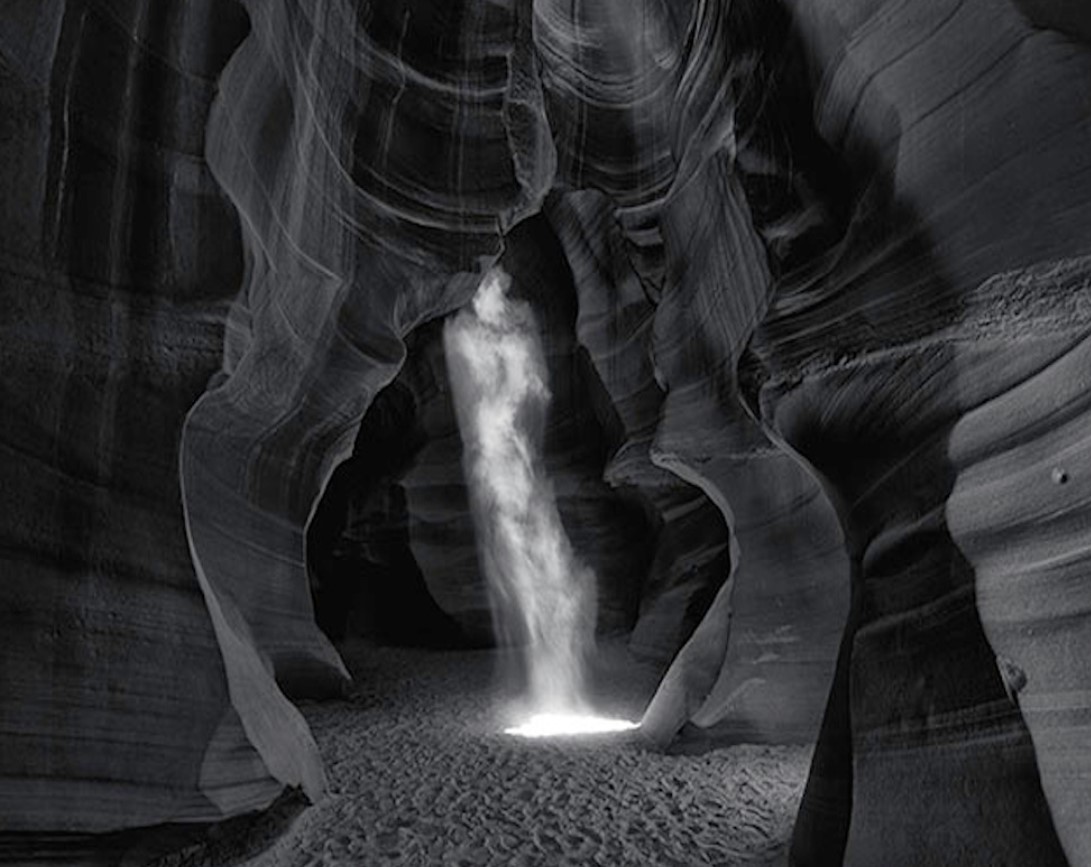 ---
Le Violon d'Ingres - 12 Million Dollar Photograph by Man Ray
In May of 2022, a new record was set by the Christie's auction for the highest sold photograph. It is a surrealist photograph by Man Ray of a naked woman's back, with two f-shaped violin markings painted over it. In it, a woman's form resembles a violin. It was produced as a black and white print in 1924. The artwork was started at the record high bid of $5 Million dollars and ended up selling for $12.4 Million. It is now the most expensive photograph sold in the history of humankind!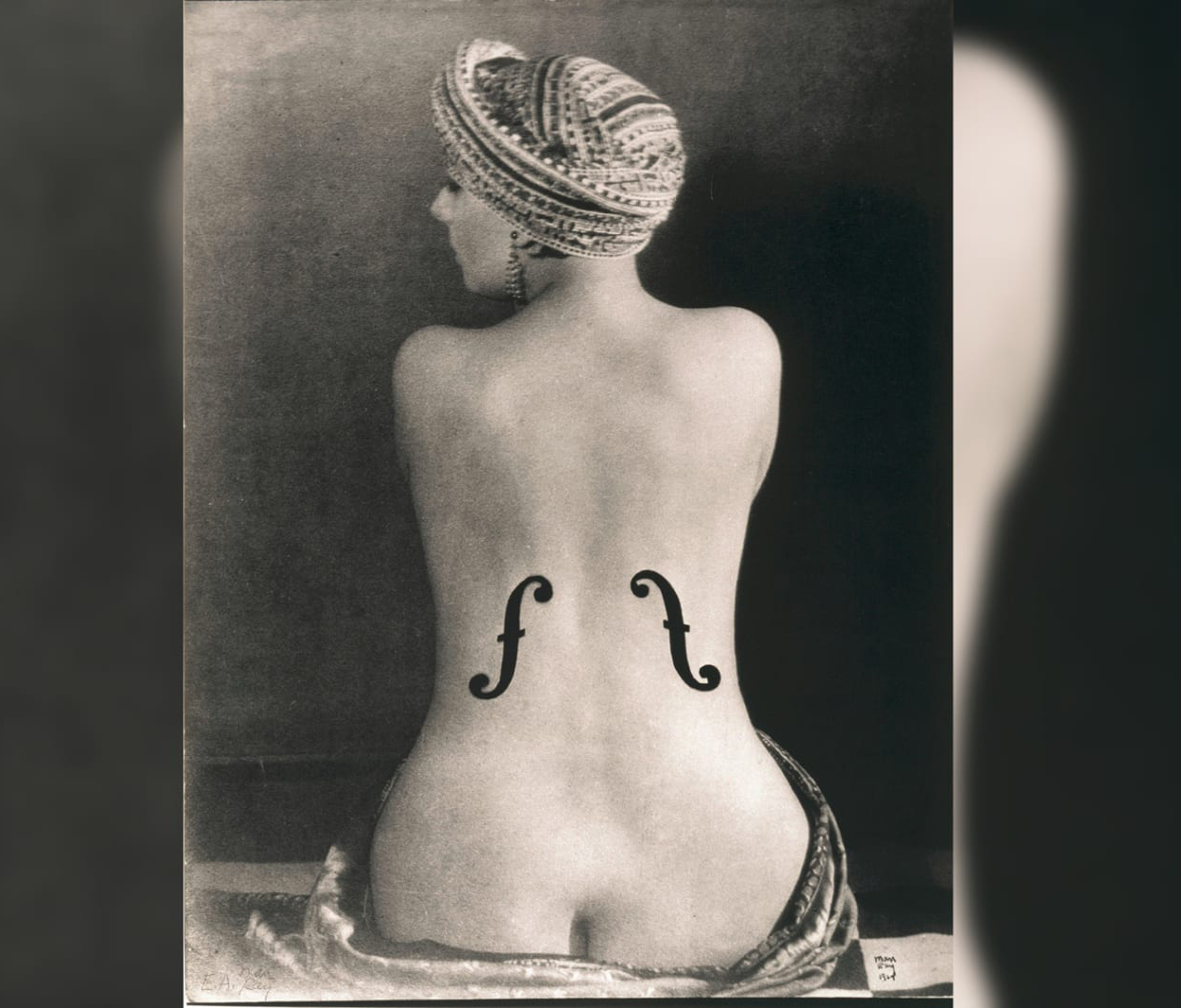 ---
Noire et Blanche (1926)
Another famous photo by Man Ray, sold for 3.3 Million dollars literally translates to "Black and White". In which his muse Kiki De Montparnasse is photographed next to a black African tribal mask. Creating a black and white contrast between the objects. Originally, this photograph first appeared in the Vogue magazine in 1926 and later was published again in other French magazines like Art et Décoration and Variétés in the year 1928. Man Ray was one of the pioneers of Surrealism art of photography and this photo signifies his interest in African arts.
---
Rheine-II by Andreas Gurski
For the longest time, the record sale for one photograph at Christie's Auction house belonged to Andreas Gurski. His famous photo Rheine-II (Rhein-II) was auctioned off for 4.3 Million dollars in 2011. The image depicts one of the major Europe rivers Rhine. This photo was digitally manipulated to remove the objects in the scene in order to create abstract photography minimalist art. Throughout his career, Andreas Gurski has sold several images for sizable sums of money. Including the "Chicago Board Of Trade" taken in 1997, which sold for $2.5 Million dollars, and the "99 Cent Diptychon" which sold for $3.3 Million dollars.
---
Untitled #92 by Cindy Sherman
Cynthia Morris Sherman an American photography artist who became prominent in shooting self-portraits, claims few spots of some of the most expensive photographs ever sold. Cindy was a unique artist who used herself as a model, director, make-up artist, and photographer. Two of her works from the "Centerfolds" series, were sold for quite large sums of money. "Untitled #96" has sold for $3.8 Million dollars and "Untitled #92" has sold for a little over $2 Million. And "Untitled Film Still #48" was sold for $2.9 Million dollars all at Christie's auction house.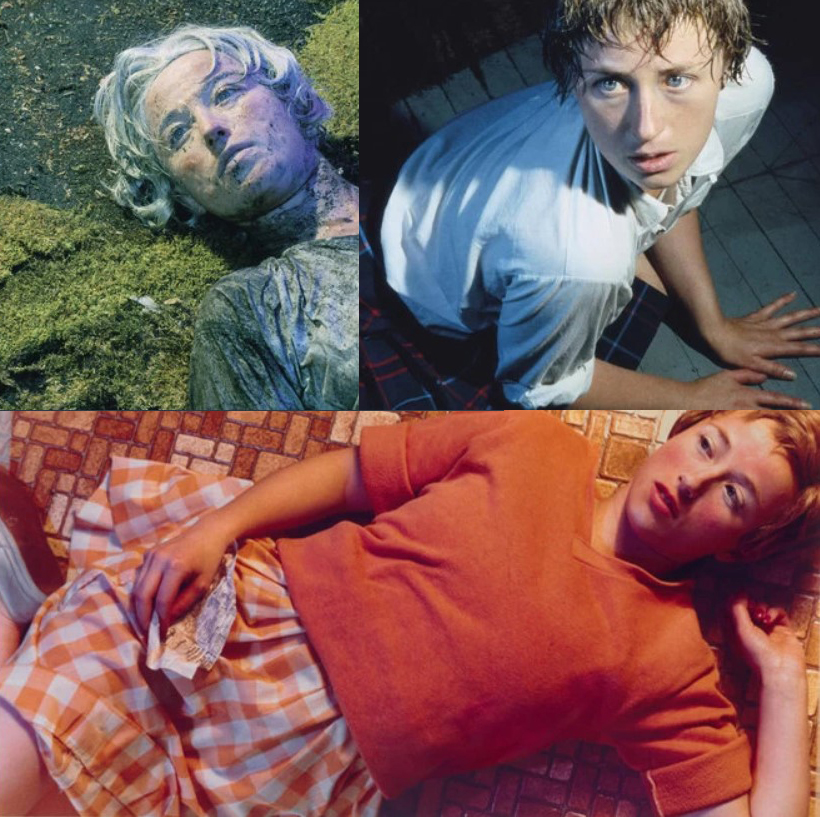 ---