Fine Art Photography In The World Of Arts
With the help of modern technology, fine art photography has become a great competitor in the world of art buyers. Compared to traditional art, which includes mainly paintings, photography prints stand out in a couple of ways. First, they produce art with a more contemporary look, having sharp and vibrant colors. Second, photography prints present the natural world more realistically, more or less the way people see it in real life. And third, fine art photography often represents landscape scenes from the real places in life that people have visited, and it provides them with the opportunity to hang a framed artwork of their favorite place in their living room. There are many categories of fine art photography. Ranging from mountains, oceans, historic/iconic places, waterfall, tree photography, and others.
In this article, I want to bring your attention to tree wall art and introduce you to how tree photography has become so popular in recent years, with art collectors buying tree art to decorate their living rooms.
"First Frost" - Trees Photography Wall Art
For many famous photographers, tree photography has become an essential part of their portfolios, not only because for artists trees have always been a convenient subject to work with throughout history. But also because trees play such an integral role in our lives, they resonate with nearly everyone when seen in virtually any art form. Not to mention the symbolism trees carry as part of human mysticism. For example, in Celtic culture, "The tree of life" represented the connection between earth and the heavens. In Jewish mythology, the Garden of Eden had a tree of souls that produced new lives. And in biology, the tree of life was used as a metaphor to describe all evolution.
In current times though, philosophy aside, some famous trees, thanks to modern artists and especially photographers, have become nearly iconic destinations. And in this article, I will give you examples of some of them. With hopes that they will also inspire you, and you might want to visit them.
---
Tree Of Life - Portland Japanese Maple
Without a doubt, the most photographed tree in Northern America resides in the heart of the city of Portland, Oregon. It is the famous Japanese maple of Portland Japanese Garden. It first became famous thanks to the master of fine art nature and landscape photography – Peter Lik. His photographs of this Japanese maple made it so popular, that hundreds of photographers fly in from all over the world. Then wait in line just to have a chance to capture, it so they can have it in their photography collections. Japanese maple in Portland is definitely one of the wonders of our amazing nature. While it only stands about 6-7 feet tall, its uniquely shaped trunk has blessed it with a truly artistic essence. Together with its autumn foliage, that goes through a range of colors, from yellow to orange and then to red. Makes it a truly special spectacle for visitors and landscape photographers to enjoy.
"Majestic" - Tree Photography by Jongas Fine Art
---
Famous Tree of Lake Wanaka New Zealand
According to many landscape photographers, this is probably the world's most famous tree to photograph. It is often referred to as a "Lone Tree Of Lake Wanaka", obviously because it is a cracked willow tree that grows all by itself in the middle of the lake with the Southern Alps in the background. It provides great artistic opportunities for photographers and painters who don't mind traveling across the globe to have their moment with it.
Because of Instagram, this Tree of Lake Wanaka has gotten so famous, that most people who go to visit there, actually get turned off by it. Despite the fact that it sits in a truly magical location. The common complaints you hear from visitors are: there are always crowds of people there, some people even try to climb the tree, there is always a drone or two buzzing above your head and often times there are groups of photographers, who act like they own the lake and occupy most of the space with their tripods. The worst time to go there obviously is during the sunset, when the colors are the nicest and everyone is there to get the best image possible!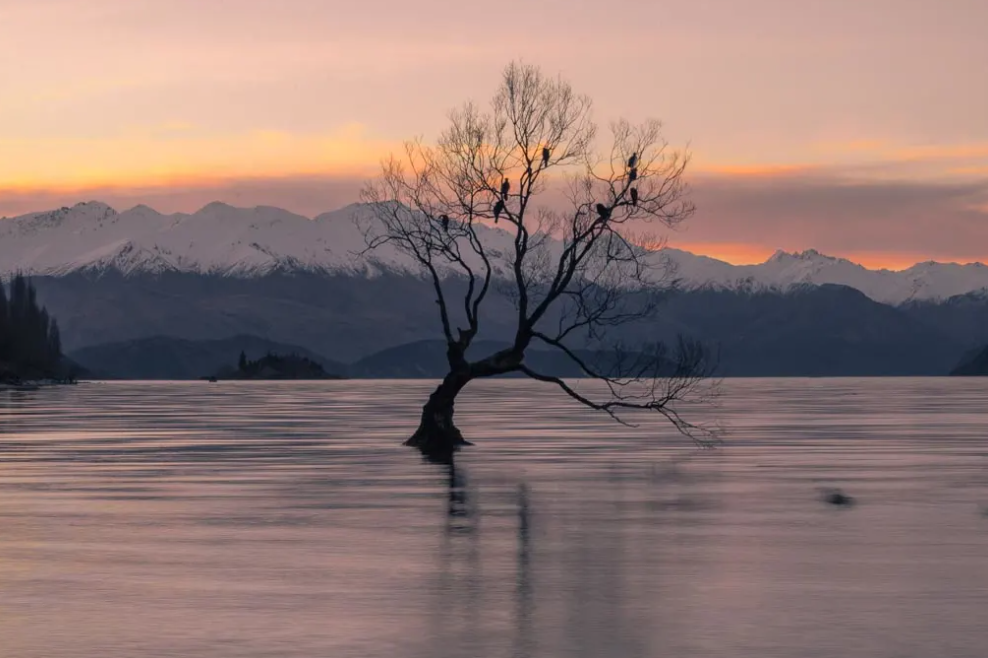 ---
The Sentinel Tree - Bristlecone Pine Forest
If you visit California, you definitely need to look at this next "tree photography" wonder. "The Sentinel Tree" definitely happens to be one of the most photographed trees in the State of California. "The Sentinel Tree" is considered a sister tree to a mysterious "Methuselah" - one of the oldest trees on the planet- an estimated 4 thousand years old. "Methuselah" grows, (for its own good) in an undisclosed location. These are the Bristlecone pines. They inhabit large areas of the white mountains in the Eastern Sierra region in the state of California. They are distinct in the way their trunk and branches get shaped by the energy vortex. In other words, they are simply really twisted. Because of that, the lines and texture of its trunk provide for unlimited artistic opportunities for painters and tree photography. Every year it draws many artists and photographers who produce amazing tree wall art with it. If you visit Bristlecone pine forest visitors center, they even have an art gallery inside, offering artworks of the tree for purchase.
"The Great Witness Of Time" - Tree Wall Art By Jongas
---