When looking for things to do in Seattle, Space Needle, quite literally, stands out among the many!
What is Space Needle?
If you haven't heard, Spaceneedle is a tower structure in downtown Seattle. In 1999 Seattle Landmarks Preservation Board has nominated The Space Needle as a historic landmark. Rightfully so. Seattle wouldn't be the same without the Spaceneedle. If you ever saw a picture of Seattle, you have probably seen a space needle in it!
Space Needle is a very tall tower in downtown Seattle with a flying saucer on top of it. The space ship looking saucer is sitting about 600 feet in the air, hosts are restaurant (click the link: space needle restaurant menu and reservations) that revolves all the time, offering spectacular views of Seattle, while enjoying a top-class dinner.
"Needle Town" - Seattle Art For Sale By Jongas
Where Is Space Needle Located?
Space Needle was built in downtown Seattle within a property of the Seattle Center Campus. It sits on a privately owned parcel of land within the Seattle Center and is easily accessible by public transport or ride-sharing services. Over a million guests visit Space Needle every year from all over the world. It happens to be, arguably, the most important architectural structure in Seattle.
How Tall Is The Space Needle?
Spaceneedle is 605 feet tall. It offers a few observation decks and a revolving glass floor, The Loupe, allowing visitors to look 500 feet down under their feet while they are having a cocktail at the lounge. This experience is not for the faint of heart. 500 feet is quite a distance and some visitors don't dare to step on the glass, lest their legs start shaking. The Space Needle was built in 1962 and at the time was considered the tallest building on the West Coast. Until it was surpassed by the Wilshire Grand Center In Los Angeles in 2017. Wilshire Grand Center is 1100 feet tall (335 meters).
"The Mistress" - City Photography For Sale
At 605 feet tall, Space Needle can be seen from many locations in Seattle. From my personal experience, the best views of the Needle can be found in the Queen Anne Hill neighborhood, especially after hours. One late evening I spent several hours driving up and down the streets in this Seattle's fancy neighborhood looking for different vantage points to take photographs of the Space Needle. There are many!
The best location to photograph the Space Needle is obviously Kerry Park in the Queen Anne neighborhood. It can be easily accessed by car or if you don't mind walking up a few flights of stairs, you can make your way up there on foot from the Lower Queen Anne (where the Space Needle is located). Kerry Park is a very popular destination in Seattle because you get the best view of downtown Seattle, The Space Needle, and Mt Rainier all in one! As long as the day is not cloudy, if it is, Mt Rainier might not be visible.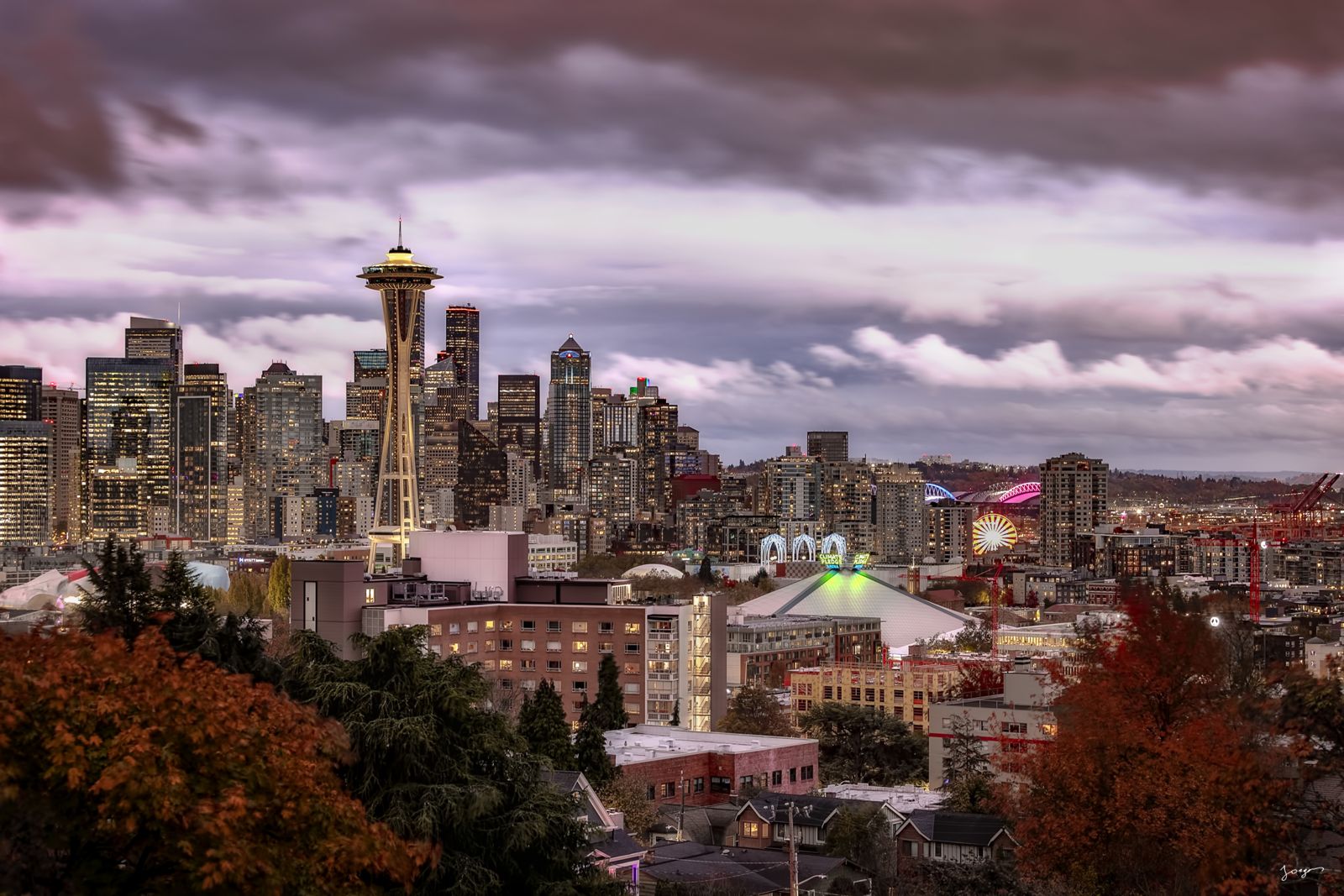 "Emerald Red" - City Fine Art by Jongas (View From Kerry Park in Seattle)
More Interesting Space Needle Facts
Space Needle was built for a fair that was built for a Century 21 Exposition Fair in 1962. The fair was designed to commemorate the 50th anniversary of the 1909 Alaska-Yukon Pacific Exposition. Seattle Center Campus and the Needle and other buildings were built to celebrate the advancement of technology that were later designated for public use.
Also, the research shows the creation of The Space Needle didn't forgo without some usual drama. To this day, the history of how the Needle was built is shrouded in mystery that no one was able to properly untangle. Originally the Space Needle was envisioned by Eddie Carlson, the prominent businessman, who was put in charge of organizing the Exposition fair. He also happened to own a chain of hotels and used to travel heavily. During his visit, he got impressed by a TV tower in Stuttgart, Germany, which supposedly made him doodle a similar design on a bar napkin. It was an initial idea that was passed on to John Graham- an accomplished architect, who was hired to actually build the tower.
The main controversy arose when John Graham, hired Victor Steinbrueck, another architect designer, who then went to work creating sketches day in and out that only Graham and a close team of architects could critique. In a few months, Steinbrueck created many designs, but most were rejected. Then one day he noticed a sculpture in his room on a shelf that gave him the idea he needed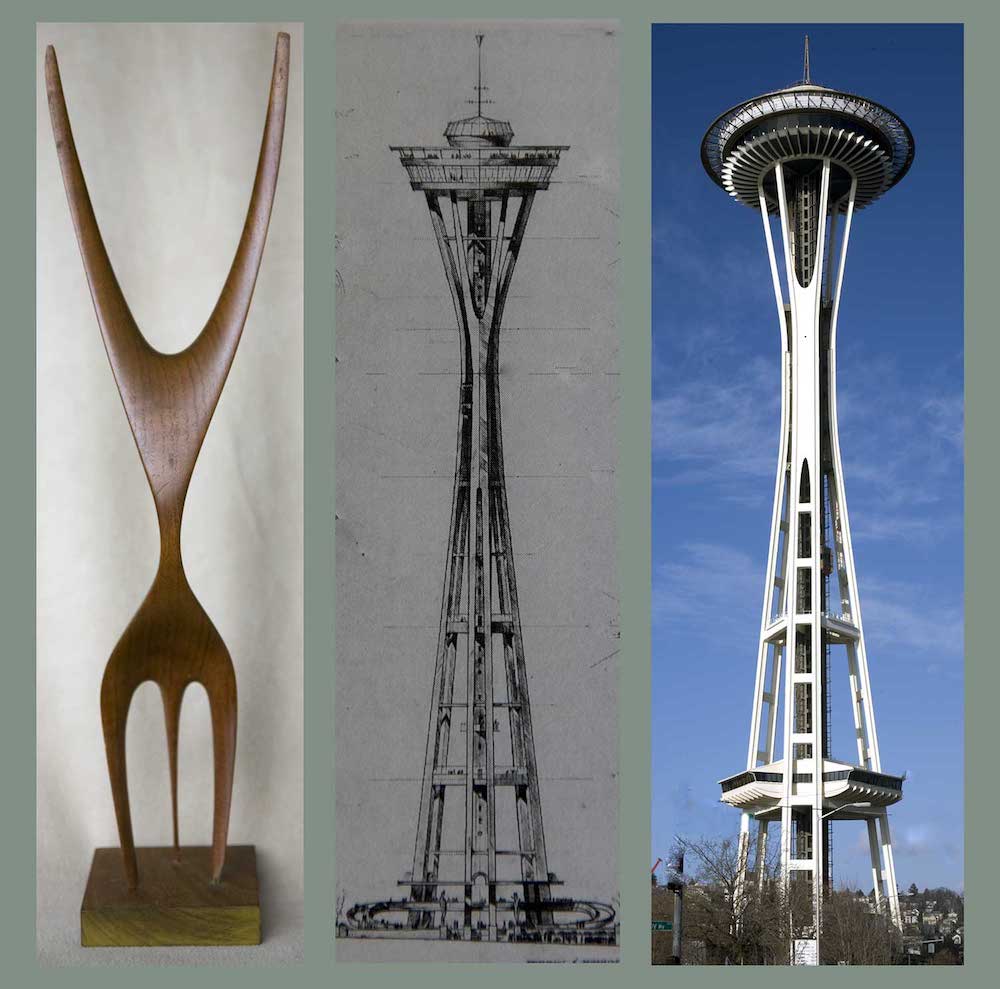 The name of the dynamic sculpture was "Feminine One" - created by David Lemon, it showed a female dancer in motion with her arms up in the air. Steinbrueck immediately created a sketch based on its form and that ended up being a design for the base of the tower. The flying saucer top was John Graham's idea, who has already built a similar revolving restaurant in the past, at one of his restaurants in Honolulu, Hawaii.
Space Needle design credit controversy reminds me of the way the Golden Gate Bridge was built, where the main architect who created most of it did not get enough credit because he was hired by a guy who took all the credit for building it. It seems like a common theme in human history, for I could give couple more examples of this type of project where similar outcomes were noticed. To learn more about the mystery of the Space Needle creation watch the documentary Space Needle: A hidden history
When Looking For Places To Visit In Seattle
Space Needle should definitely be on top of your list. It is also quite visible from Kerry Park, as well as the deck of the Seattle Ferries, where you can get a nice view of Seattle's Skyline and take some panorama photos as the ferry is getting farther away from the city. Another iconic place on your list when visiting Seattle should be Pike's Place Market. It is a daily farmers market that is home to the Original Starbucks Coffee Store, a fish market, a Ferris wheel, and many fancy restaurants! At last, don't forget to visit Seattle's Japanese Garden, especially during the time of fall. You will be definitely pleased by the garden's serenity and spectacular autumn colors!

"Emerald Blue" - Seattle Skyline Panorama Art by Jongas